HAMPERS DESIGNED TO IMPRESS
ZEN
$120.00 + $15 delivery
Waffle Cotton Bathrobe – One Size Fits Most
Waffle Bathing Mitt
Cotton Hair Towel
Face Sponge
Soothing Eye Mask
100gm Organic English Breakfast Tea
Sohum Candlette – 100% Soy Wax – Fragrant – for use on balcony of apartment only
Gift Box tied with Satin Ribbon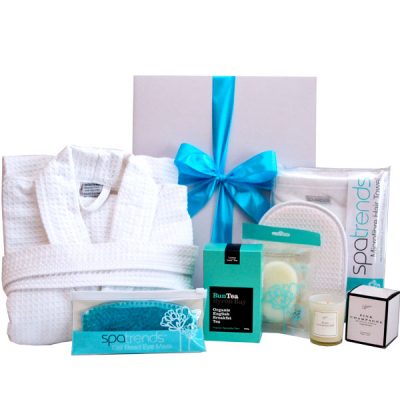 WINE AND CHEESE
$139.50 + $15 delivery
Quarisa Johnny Q 2012 Shiraz Wine
Quarisa Johnny Q 2014 Semillon Sauvignon Blanc Wine
125g Feijoa Paste (an accompaniment for wine and cheese)
250g Cheese Platter Set with Pears, Almonds and Muscatels
Wine Platter Set with 225g Olives and Dukkah & 60ml Olive Oil
Designer Gift Box
John Quarisa (winemaker) draws on his extensive experience to deliver the Johnny Q range, a range which encapsulates his love of life. These wines are a perfect accompaniment with fun times and lots of laughter.
Multiple awards have been won with both of these Quarisa wines, including a trophy, 3 Gold Medals, 3 Silver Medals, and 4 Bronze Medals.
Given 5 Star rating by Winestate Magazine (2014) and 4 Stars by James Halliday's Wine Companion.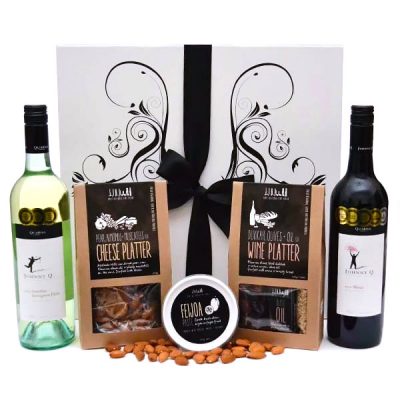 CHANDON CLASSIC
$119.00 + $15 delivery
Chandon Brut
Riedel Wine Glasses (2)
40gm Chocolatier Pure Indulgence Chocolates
250gm Wild Hibiscus Flowers in Syrup
Gift Box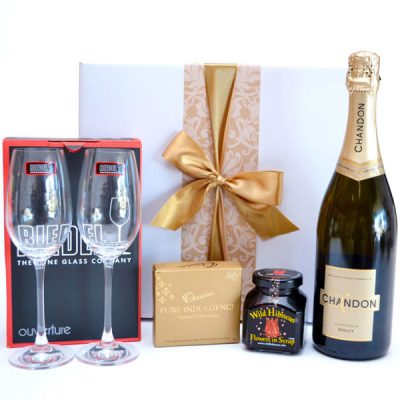 GOLD CLASS MOVIE VOUCHER
$169.95 + $15 delivery
2 x Village Gold Class Movie Tickets (Unrestricted)
140gm Flavoured Popcorn
125gm Crunchy Brittle (Wheat & Gluten Free)
250gm Box of Freckleberry Lollies
75g Thomas Chipman Organic Sweet Potato Chips
250gm Raspberry Hand Made Rocky Road
150g Chocolate Fruit and Nut Mix
125g Charlies Hand Made Choc Chip Bites
95g Raspberry Sherbet Rock Lollies
Gift Box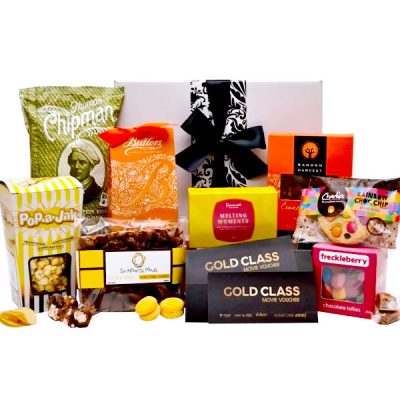 LAVENDER AND CHAMOMILE
$119.95 + $15 Delivery
500ml Aromatherapy Lavender and Wild Chamomile Hand & Body Wash
500ml Aromatherapy Lavender and Wild Chamomile Hand & Body Lotion
150ml Aromatherapy Lavender and Wild Chamomile Body & Bath Oil
190g eKhi Soy Wax Candle (up to 40 hour burn time) – for use on balcony of apartment only
Hand Towel
Gift Box with Satin Ribbon
Khi soy wax candles are made with all natural soy wax and contain no paraffin or palm oil wax.
Made with cotton, lead free wicks to give a cleaner, healthier burn.
Each candle is triple scented, hand poured and made using the highest quality fragrance.
Australian owned and made.
For healthy skin and a healthy environment, all Aromatherapy products are free from: Mineral Oils and Parabens, Sulphates, Artificial Fragrance, Dyes and Colours and Animal Testing.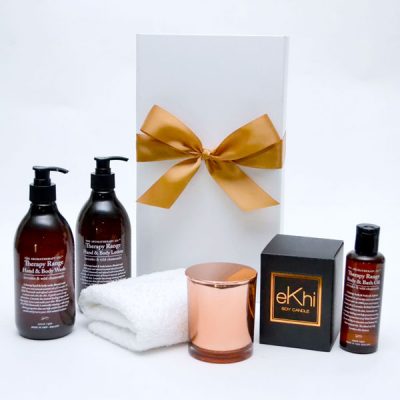 COUPLES RETREAT
$225.00 + $15 delivery
2 x Waffle Bathrobes – One Size Fits All
750ml Louis Roederer Brut Premier Champagne
Stainless Steel Wine Cooler
Aromatherapy Co Candle – Juniper Berry & Thyme – for use on balcony of apartment only
150gm James Road Chocolate Coated Strawberries
Packaged in a large Designer Boxes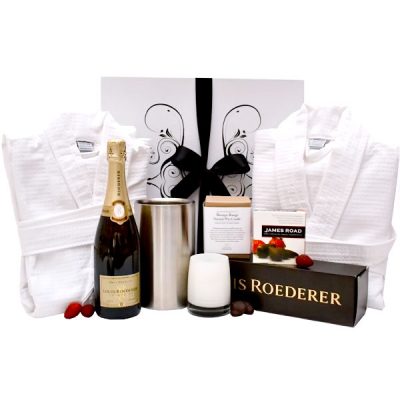 AFTER WORK DRINKS
$99.95 + $15 delivery
Quarisa Johnny Q 2012 Shiraz (multiple award winning)
75g Thomas Chipman Organic Sweet Potato Chips
75g Sami's Kitchen Mixed Nuts
125g Byron Bay Chocolate Coated Coffee Beans
125g Crunchy Brittle
125g Charlies Hand Made Choc-Chip Bites
150g Tutti Frutti Patiences
150g Chocolate Hazelnut Crispbread
Gift Box
Award Winning Wine:
Trophy Champion Red Wine – 2014 New Zealand International Wine Show
90 Points James Halliday Wine Companion 2015
Gold Medal – 2014 New Zealand International Wine Show
Gold Medal – 2014 Catavinum World Wine & Spirit Competition (Spain)
Gold Medal – 2014 Concours Mondial Bruxelles Belgium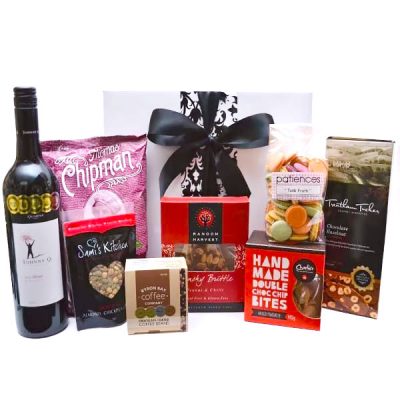 TREAT HIM
$62.50 + $15 delivery
125ml Every Man Jack Face Lotion
200gm Every Man Jack Shave Gel
Face Towel
100gm Soft Nougat
100gm Caramel Coated Roasted Macadamias
Gift Box